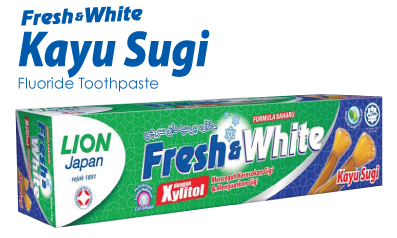 Available in:
160g, 225g, 225g x 2

A family toothpaste with natural goodness from "kayu sugi" extract, essential oil of clove and eucalyptus.





2-Fluoride & Calcium protect &
strengthen tooth enamel.
Essential oil of clove and eucalyptus
enhance cleaning,cooling and fresh
taste.
Kayu Sugi Extract contains natural
antiseptic, in line with Islamic
way of life – pure and clean.
Xylitol helps the absorption of calcium
and prevents tooth decay.
Whitemax for whiter teeth.